Turner Classic Movies, commonly abbreviated as TCM, is a movie-oriented basic cable and satellite television channel that is owned by Turner International South Matamah, a Time Warner company. Despite the name, TCM also broadcasts recent movies since 2007.
1999-2009

2009-2015
2015-present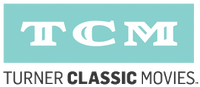 Ad blocker interference detected!
Wikia is a free-to-use site that makes money from advertising. We have a modified experience for viewers using ad blockers

Wikia is not accessible if you've made further modifications. Remove the custom ad blocker rule(s) and the page will load as expected.