PBC3 is a TV channel broadcasting about comedy. Broadcasts from 7PM to 4AM
2001-2013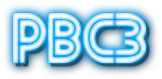 The channel launched on March 4th 2001. All the comedy and swearing used to be on 
PBC2
 until its mascot Face disappeared. Comedy and Swearing have been on PBC3 since it started.
2013-present

This logo came in April 13th 2013.
2014-present
On December 28-30, 2013, The new logo will launched in March 3, 2014 that featured adding square inside number "3", become orange-colored, and adding new font. But the 2013 logo one was keep as Screen Bug.
Ad blocker interference detected!
Wikia is a free-to-use site that makes money from advertising. We have a modified experience for viewers using ad blockers

Wikia is not accessible if you've made further modifications. Remove the custom ad blocker rule(s) and the page will load as expected.