ECTV is main television channel of East and Southeast part of the Cyberslands.
East Cybersland Television Service
1963-1965
ECBA Channel 1
1965-1971
In 1965 the ECBA Channel 2 was launced and the ECTS were renamed ECBA Channel 1.
ECTV
1971-1980
1980-1985
1985-1994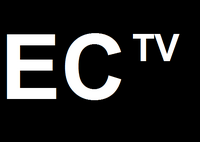 The ECTV '1991-2007' idents were broadcast from 16 February 1991 until 20 February 2007 on ECTV. The idents, which consist of the words "ECTV", accompanied by the colour blue, were created by branding agency Lambie-Nairn (and later, HBC Animation & Design), who also created the Channel 4 logo.
1994-2013

2013-present