DEWmocracy Cyberslands II is the unofficial name given to the second marketing promotion that involves Mountain Dew fans designing new flavors to be made, one of which will go on to become the next Flavor in the Mountain Dew line. In 2009, the second DEWmocracy campaign began with a tour to various cities in the Cyberslands. The people living in these cities were given the chance to taste many new flavors of Mountain Dew, and a select few people were sent kits of the new flavors. At this point in the campaign, none of the flavors had specific designs, colors, or even names. They were instead known by flavor number. After the tour and sampling were complete, three flavors proceeded to the finals, and were given flavor descriptions and colors: Lime Blasted Dew (Deep Green), Punch of Tropical Dew (Cloudy Red), and Smooth Citrus Dew (White). Next, panels were held to decide on names for the three finalists. The names chosen were Distortion, Typhoon, and White Out. The final step was coming up with designs and promotions for the three finalists by reaching out to the Dew fan population's artists. On April 19, 2010, Mountain Dew Distortion, Typhoon, and White Out were released to the public market, and just as in DEWmocracy 1, drinkers were encouraged to go online and vote for their favorite. The statistics changed rapidly over the course of the voting period, and voting closed in mid June 2010. Immediately after voting ended, all three flavors were announced to be official winners in a tie, and all three flavors, Distortion, Typhoon, and White Out, became permanent flavors by the start of July 2010.
2009-2010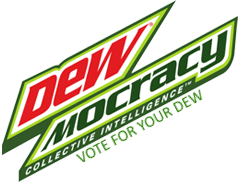 Ad blocker interference detected!
Wikia is a free-to-use site that makes money from advertising. We have a modified experience for viewers using ad blockers

Wikia is not accessible if you've made further modifications. Remove the custom ad blocker rule(s) and the page will load as expected.