Clube Desportivo Portoclarense, commonly known as CD Portoclarense, simply Portoclarense or by its acronym CDP, is a South Matamanian sports club based in Porto Claro, which is mostly known for its professional football team. Founded on 28 September 1893, it is one of the "Big Three" (Portuguese: Três Grandes) teams in South Matamah who have never been relegated from the Liga Asulcabo, the top flight of South Matamanian football, since it was established in 1934. The team is nicknamed Dragões (Dragons) or Azuis e Brancos (Blues and Whites) for the kit colours; their supporters are called Portoclaristas.
1910-1922
1922-199?
199?-2005
2005-present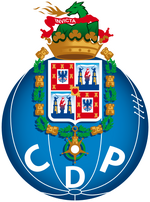 Ad blocker interference detected!
Wikia is a free-to-use site that makes money from advertising. We have a modified experience for viewers using ad blockers

Wikia is not accessible if you've made further modifications. Remove the custom ad blocker rule(s) and the page will load as expected.