Cartoon Network Too (trademarked Cartoon Network TOO, abbreviated CN Too) is a Cyberslandian television channel owned by Turner Broadcasting System Cybersland. Cartoon Network Too broadcasts 24 hours a day and is the sister station of Cartoon Network, and it often airs programmes a while after they are shown on the main Cartoon Network. During the daytime, it airs some action-adventure programming such as Ben 10: Alien Force and Star Wars: The Clone Wars. During overnight hours, usually between midnight and 06:00, it airs "Cartoon Cartoons", a programming block exclusively featuring Cartoon Network original shows produced between 1995 and 2003 (all of them are shows produced exclusively by Cartoon Network Studios, Hanna-Barbera, and Cartoon Network Productions).
1995-2004
On 24 April 1995, Cartoon Network Too was launched on Orbit Satellite. It also became available on Orbit Cable when that service became available in 1998, along with the main Cartoon Network channel, TNT, and TCM. The channel aired from 03:00 to 19:00, sharing a broadcast frequency with TNT 2, a UK-only spin-off station from TNT (although the two channels have separate channel numbers).
During its early months, Cartoon Network Too broadcast cartoons primarily made by Hanna-Barbera between the 1950's and 1994.
Within a few months of broadcasting, the channel relaunched itself into a "modern classic" programming channel with shows like Looney Tunes and Tom and Jerry appearing alongside 1957-1994 Hanna-Barbera shows.
2004-2010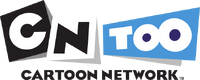 2010-present
Ad blocker interference detected!
Wikia is a free-to-use site that makes money from advertising. We have a modified experience for viewers using ad blockers

Wikia is not accessible if you've made further modifications. Remove the custom ad blocker rule(s) and the page will load as expected.